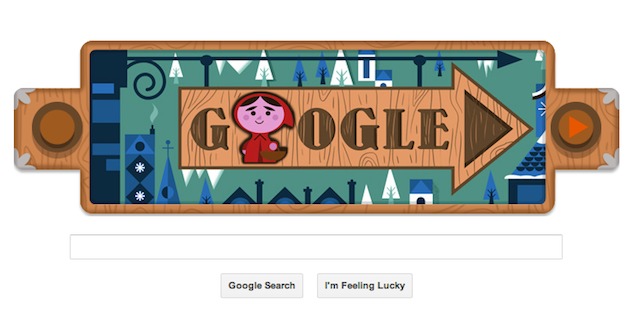 Google doodles 200th anniversary of Grimm's Fairy Tales
Grimm's Fairy Tales is featured in the latest Google doodle, on 200th anniversary of first publication of the famed classic.

Grimm's Fairy Tales is the popular name of a 19th century German book called Children's and Household Tales (Kinder und Hausmärchen in German). The book was written by German brothers Jacob Ludwig Carl Grimm and Wilhelm Carl Grimm.

In Grimm's Fairy Tales, the Grimm brothers collected many of Europe's most popular fairy tales including Cinderella, Beauty and the Beast, Hansel and Gretel, The Frog-Price, Goldilocks And The Three Bears, Rapunzel, Snow White and the Seven Dwarfs, Rumpelstiltskin and many, many others.

The first volume of the first edition of Grimm's Fairy Tales was published in 1812 containing 86 stories; the second volume of 70 stories followed in 1814. The seventh and final edition under the brothers' watch was published in 1857 and it contained 211 stories split across two volumes.

These editions were extensively illustrated by Philipp Grot Johann, whose work on Grimm's Fairy Tales is considered as amongst the finest of his career. Some of these illustrations are mildly humorous, such as the one in The Devil With the Three Golden Hairs where the devil is pictured reading a newspaper which, on closer examination, is a stock market letter. Robert Leinweber took over illustration duties for the latter editions after Johann's death in 1892.