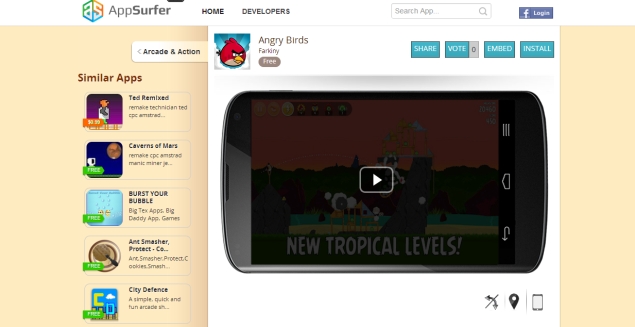 AppSurfer, which allows users to try Android apps in their browser before downloading them on their phones, has now added support for tablet apps as well. It supports a resolution of 1024x600 for tablets.
AppSurfer released a private beta in March 2012 and launched its first version mainly targeting developers in October 2012. It runs a customised version of Android in the Cloud and runs multiple instances of the OS, streaming graphics to users using HTML5 or Flash. It tracks user input and sends it back to the cloud. It has also implemented custom sensors to emulate sensor data, like that of GPS and orientation sensors.
RainingClouds Technologies, the company which has developed AppSurfer, says that it is not just another AppStore, and its focus is on enabling users to try apps. After they are satisfied with the app, they can make the decision to download it. For downloading the app, AppSurfer redirects users to the Google Play app store. Users can also share app recommendations on Facebook and Twitter and their friends can try these apps within Facebook.
Developers can create a free account at AppSurfer, and can put their apps (via apk files) on the site . They don't need any code integration/change in app and they can also embed apps on blogs and product pages, just like YouTube videos.
Speaking with NDTV Gadgets, Aniket Awati, CEO and Co-founder of RainingClouds, informed us that as of date, AppSurfer has 4,000 developers and 2,300 apps on-board, with a paid to free app ratio of 1:20. The company intends to monetise by offering new download models, tying up with third party app stores.
It is noteworthy that, Amazon also allows users to try apps in the web browser through its 'Test Drive' feature. However, according to Awati, the feature is based on Flash, while AppSurfer also offers an HTML5 version, allowing non-flash devices including iOS ones, to run app previews in their respective browsers. The company doesn't offer support for iOS at the moment, as there are several restrictions. "iOS apps require installation of emulators, which slow down the experience and don't support native features like GPS," adds Awati.
Services like Pieceable (which was acquired by Facebook), and Kickfolio also allow developers to upload their apps on the web, allowing users to try them via their web browsers.