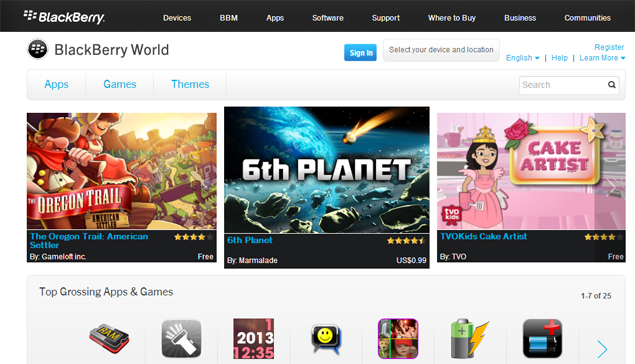 Research in Motions' big BlackBerry 10 is now just days away and the company seems to be busy getting all the last minute things in place. The Canadian software maker has now rechristened its BlackBerry App World as BlackBerry World. The desktop version of the renamed store is already live and the company has begun a phased rollout for its existing smartphone and tablet users.

The name change is in line with BlackBerry's plan to reposition its store as not merely an app store but to add mobile and video content as well. According to RIM, BlackBerry World will be a one-stop destination to cater to users' mobile entertainment needs.

In the new app store, the content is divided into different channels. There is a separate channel for games, apps and themes.

In the past RIM has been criticized for lagging in the app eco-system and this move is one significant step in rectifying its mistake. Apart, from renaming the app store, BlackBerry also announced a few days back, that it has received 15,000 apps for its BlackBerry 10 devices in under 40 hours, 37.5 hours to be exact. These apps were submitted under the Port-A-Thons event that RIM had organised to encourage developers to brace the new platform.

Excited by the response the company has received for this incentive program, RIM has now extended the deadline apps submission to February 18, 2013 20:00 hours Eastern Time. The major reason for the extension is said to be the backlog of applications submitted for review.

In its official blog RIM posted, "The fact is, the volume of apps being submitted for review and entry into the program has been remarkable. Due to that large volume of apps, we are extending the deadline".

RIM has had a turbulent 2012 as the company struggled to survive against mighty rivals, Apple and Android. To make a comeback, the Canadian software maker has put all its eggs in the BlackBerry 10 basket and will be showcasing at least two new smartphones based on the BlackBerry 10 OS at an event on January 30, 2013.