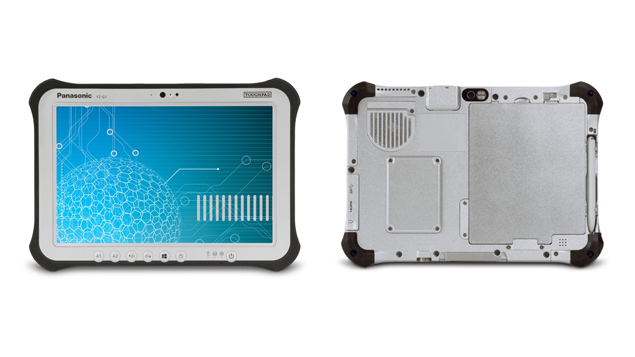 Panasonic is on a roll this year with launching products across various categories. After the bone conduction TV headphones, the 56-inch 4K OLED TV and the 20-inch 4K Windows 8 tablet, the company also unveiled two new Toughpads running on Windows 8 Pro and Android.

The FZ-G1 is a 10-inch version that runs on Windows 8 Pro, while the 7-inch JT-B1 runs on Android 4.0. Both sport a rugged look obeying the MilSpec standard 810G and are expected to be water-proof and have daylight viewable screens. The FZ-G1 can even use a stylus with third-party apps.

In a nutshell, the FG-Z1 has a 10-inch 1,920 x 1,200 display powered by a 1.9GHz Ivy Bridge Intel Core i5-3437U vPro CPU, a 128GB SSD (upgradeable to 256GB), up to 8GB RAM an 8 hour battery and an optional microSD slot. Connectivity options include USB 3.0 and 2.0 ports, Bluetooth 4.0, WiFi and optional Verizon LTE or 3G.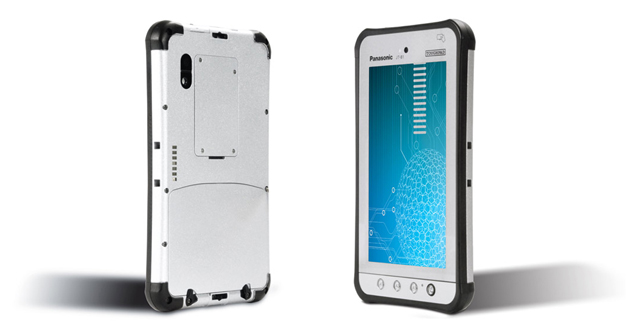 On the other hand,the JT-B1 has a 7-inch 1,024 x 600 display and packs a 1.5GHz dual-core TI OMAP 4660, 16GB storage and 1GB RAM, built-in microSD slot, 13-megapixel rear and 1.3-megapixel cameras and a 5,720mAh battery promising upto 8 hours of life.

Coming to pricing and availability, the 10-inch Windows 8 Pro-based Toughpad FZ-G1 will be available in March starting at $2,899. The 7-inch Android-powered Toughpad JT-B1 will ship in February starting at $1,199.

Panasonic launched the first Android-based Toughpad in June last year called the Toughpad A1 that features a 10.1-inch LCD display and is water-proof, dust-proof and shock-proof.

Followed suit was a Windows 8-based Toughbook CF-C2 in India starting Rs. 1 lakh.Toughbook CF-C2 comes with 12.5-inch capacitive 5-finger multi-touch display and can be used both in tablet and clamshell mode.

The company recently launched the Toughpad FZ-A1 tablet and CF-AX2 ultrabook in the country priced at Rs. 75,000 and Rs. 1,30,000. While the FZ-A1 is already available, the CF-AX2 will be available starting February 2013.


Panasonic Toughpad FZ-G1 key specifications
Windows 8 Pro
10.1-inch WUXGA (1920x1200) touchscreen and active digitiser
3rd Generation Intel Core i5-3437U vPro (1.9GHz upto 2.9GHz)
128-256GB SSD
4-8GB RAM, optional microSDXC
MIL-STD-810G, 4' drop, IP65, 14° to 122°F (operational temp range)
10.6" x 7.4" x 0.75"
2.43 pounds
User replaceable battery
Wi-Fi 802.11 a/b/g/n/, 3G, Bluetooth 4.0, optional embedded 4G LTE, Micro-USB
Full-size USB 3.0, HDMI, Full-size USB 2.0, wired LAN, dedicated GPS
Panasonic Toughpad JT-B1 key specifications
7-inch WSVGA (1024 x 600)
Android 4.0
1.5GHz Dual core TI OMAP4460 processor
16GB internal storage, microSDHC
1GB RAM
MIL-STD-810G, 5' drop, IP65, 14° to 122°F (operational temp range)
13-megapixel auto focus with LED
1.3-megapixel front camera
5,720mAh user-replaceable battery
8.7"x 5.1" x 0.7"
1.2 pounds
Wi-Fi 802.11 a/b/g/n/, 3G, Bluetooth 4.0, optional embedded 4G LTE, Micro-USB