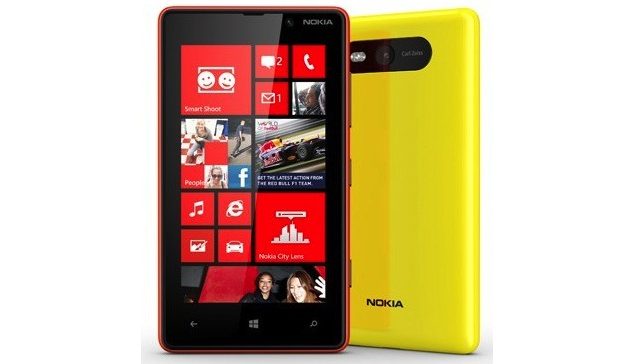 Nokia has launched the Lumia 820 in India and revealed the price as Rs. 27,559.
The Nokia Lumia 820 is the younger sibling of the Lumia 920, which was launched in India on Thursday as well.
Nokia announced the Lumia 820 way back in September at a special event held in New York.
The Nokia Lumia 820 comes with a 4.3-inch AMOLED ClearBlack display with 800x480 resolution. It is powered by a Snapdragon S4 processor alongside 1GB RAM and 8GB of internal storage, expandable by another 64GB via a microSD card.
The Lumia 820 comes with a 8.0-megapixel rear camera, but without the PureView technology found in the Lumia 920 and the legendary Nokia 808. It comes with a VGA front camera for video calls. Like the Lumia 920, the Lumia 820 also comes with NFC and wireless charging, as well as Bluetooth, Wi-Fi and Micro-USB connectivity options.
The phone comes with a 1,650mAh battery and weighs a hefty 160 grams.
The Nokia Lumia 820 runs Microsoft's latest Windows Phone 8 operating system. Windows Phone 8 brings a host of improvements to Windows Phone like Internet Explorer 10, Nokia Maps and user resizable tiles.
Nokia Lumia 820 will be available in red, yellow, cyan, white and black colours starting Friday.
Nokia also launched the Lumia 920 and Lumia 620 in the country.
Nokia Lumia 820 specifications
4.3-inch (800x480) AMOLED ClearBlack display
Dual-core 1.5GHz Snapdragon S4 processor
1GB RAM
8GB internal storage (expandable by 64GB via microSD card)
8.0-megapixel rear camera
VGA front camera
Wireless charging
Wi-Fi, Bluetooth, Micro-USB
Windows Phone 8
1,650mAh battery
123.8mm x 68.5mm x 9.9mm
160g