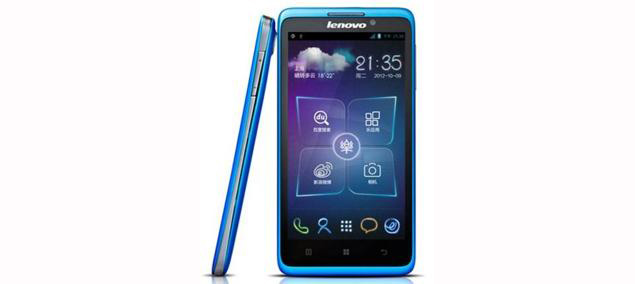 Lenovo kick started the CES 2013 by showcasing its 5.5-inch phablet, Lenovo K900. Now the company has announced five new dual-SIM smartphones.
The two smartphones in the S-Series seem to be the higher-end models and according to the company aimed at the young, urban professionals.
S890 is a 5-inch smartphone with qHD (540 x 960 resolution) screen. It is 9.3mm thick and weights 176 grams. There is a 8-megapixel auto-flash camera on-board and runs on Android 4.2 (Jelly Bean). Lenovo S890 is powered by a 2,250mAh battery.
The other device is S-Series is the S720, which comes with 4.5-inch IPS (960x540) display. It comes with a 8-megapixel rear camera and 1-megapixel front camera. It is 9.9mm thick and comes in what Lenovo dubs as the 'Loop' design. It is expected to be available in three colour options and run on Android 4.0 (Ice Cream Sandwich). It will run on dual-core MTK CPU and a 2,000 mAh battery.
Lenovo IdeaPhone P770 is more apt for the frequent travelers as it comes with 3500mAh battery and the company claims that it can deliver up to 30 hours of talk time between charges. It runs on Android Jelly Bean. The other notable feature for this smartphone is the USB on-the-go feature.
The other two dual-SIM devices that Lenovo has showcased are Lenovo A800 and Lenovo IdeaPhoneA690. Both of them run on Android 4.0 (Ice Cream Sandwich). Lenovo A800 has a dual-core, 1.2GHz CPU and a 4.5-inch touchscreen. It comes with 2000mAh battery. While Lenovo IdeaPhoneA690 comes with a 1GHz processor, 4.0-inch screen with a resolution of 800X480.
"For smartphone users, one size does not fit all," commented Liu Jun, president MIDH and senior vice president Lenovo Group, "We've learned from our customers, and we know they have many different, unique reasons for selecting Lenovo smartphones. Our new portfolio, features devices designed to please and amaze a wide range of customers globally, with a phone for every user.
Lenovo has not revealed the pricing for any of these smartphones but they are expected to be launched in China soon.
The Chinese smartphone maker has also showcased Lenovo Ideaphone K5 earlier at CES 2013. This is a single SIM smartphone, which comes with a 5-inch full HD display. It sports a dual-core graphics processor and a 13-megapixels rear camera.
Lenovo Ideaphone K5 is expected to be launched in China, Vietnam, the Philippines, Indonesia, India and Russia.